4 Ways To Speed Up Your VA Loan Process
There's no question: the VA home loan is the very best mortgage available. For those who have served our country in the military, home ownership is available with no down payment required, below-market interest rates and lending standards that are easier and more forgiving than for conventional loans.
We might all wonder why every veteran on the planet isn't using this loan program. There are a few reasons, most of them related to an unfortunate lack of knowledge and misinformation.
One assumption about VA loans in particular, has been a show stopper for many sellers.
Doesn't The Government Issue A VA Loan?
It's true that the VA home loan involves the government. It is NOT true, however, that the government actually underwrites, approves and funds the loan.
Mortgage companies handle that task, just as for any conventional loan. The government sets the standards for the VA home loan program and guarantees the loan once the loan is complete. The usual government bureaucracy and gridlock seldom applies to a VA loan.
How To Speed Up The VA Loan Process Regardless
The paperwork for VA loans is slightly different than for conventional loans. As lenders, able to automate so much of the process that the many forms involved in the VA loan application take no longer than for conventional loans. If you are aware of these differences, you'll be able to complete most of the steps in the loan process before you have even found a property to buy. Here's how you can to speed the process.
Get your Certificate of Eligibility (COE) first. Your loan officer will log into the VA Home Loan Portal on line and apply for your COE on your behalf. In most cases, the VA will issue the COE instantly. In others, the loan officer will get a message that you will have to apply manually. Your loan officer will do this on line, as well—but you will have to provide your DD-214. VA's portal will accept a scanned copy of that document as part of your application. In most cases, the VA will process your application and email the new COE to your loan officer within a week.
Fill out the Closest Living Relative information. You'll find this on a separate document that your loan officer will provide you.
Go over your credit report. Find the section listing all the inquiries to your credit file over the last 180 days. Write a short note for each inquiry explaining what it was ("shopped for a new cell phone plan," etc.) and state whether you established any new credit.
Investigate errors. If your credit report shows any late payments or other derogatory items, be prepared to write a short letter of explanation about each one.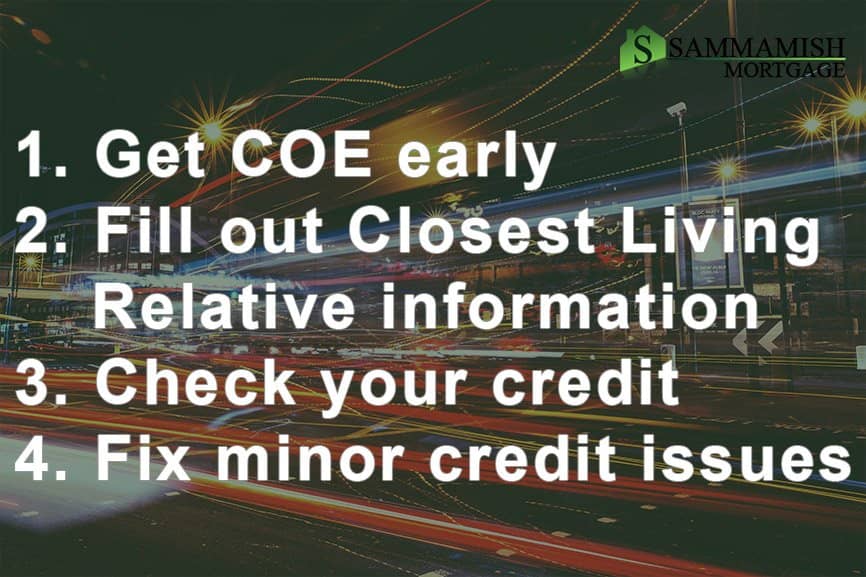 Once you have completed and signed your loan application and disclosures, your loan officer will be able to submit your file to the underwriter for approval—even if you have not yet selected the property you want to buy. This is called a "TBD approval" for property To Be Determined.
Once the underwriter has approved your loan application (this will normally take just a few days), you'll be able to say, "My loan is not just pre-approved; it is APPROVED." That early approval means that you will just have to provide the purchase contract, appraisal and a few purchase-specific documents before being able to close your transaction.
Even though sellers are often reluctant to accept an offer with VA financing, you'll be in the strongest possible bargaining position by having gotten your loan fully approved before you even make an offer.
While it is true that the mortgage process—whether conventional or VA—does take longer today than it did just a few short years ago, working with your loan officer to develop a complete loan application package, then submitting it to underwriting for approval as early in the process as possible, even before you have an accepted offer, will stack the deck in your favor when it comes time to negotiate the purchase of your new home using a VA loan.
Have Questions About Mortgages?
Do you have questions about down payment options and mortgages? If so, we'd love to help. Sammamish Mortgage has been helping home buyers and homeowners across the state of Washington since 1992. We offer many mortgage programs to borrowers all across Washington, Oregon, Idaho, and Colorado. Please contact us if you have financing questions, or if you'd like to get an estimate for your next home loan.