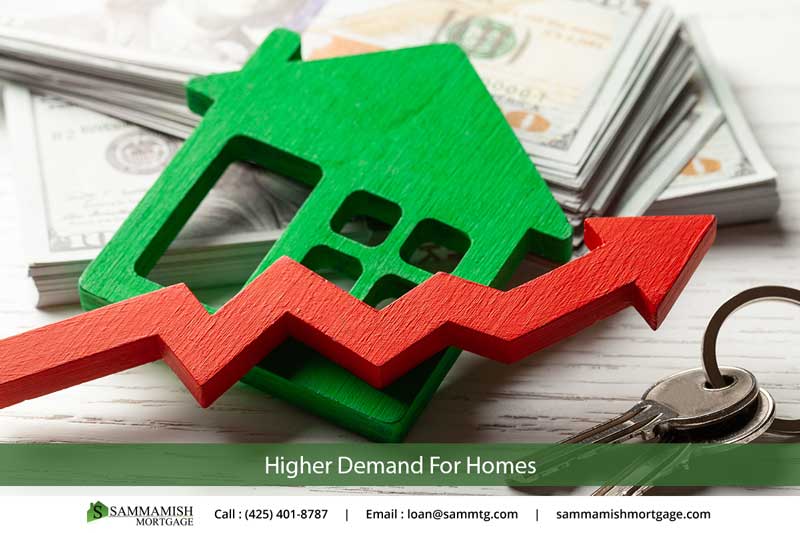 Is The Demand for Homes Slowing Down Anytime Soon?
There is no denying that the demand for homes is higher than expected in the wake of an ongoing pandemic. In this article, we'll go over why the market will continue to be competitive for buyers and why the demand for homes is unlikely to slow down anytime soon.
In This Article:
Why Is Demand For Homes High?
Will There Be More Home Inventory Later This Year?
Why Is Demand Unlikely To Slow Down In 2021?
What Can You Do To Make Yourself A More Competitive Buyer?
Across the US, there has been a definite demand from homebuyers due to the ongoing pandemic. What started as uncertainty in March 2020 due to COVID-19-related shutdowns quickly turned into home sales skyrocketing through the summer well into the fall. Homes were even hard to come by in November and December, which was practically unheard of until now. That said, with the way things have played out for 2020, it is not too shocking to learn that it appears that increased demand for home inventory will likely continue well into 2022.
Why Is Demand For Homes High?
The market has been on fire this past year due to historically low mortgage rates and an unexpected wave of relocations made possible by the rise in remote work. Meanwhile, home prices have reached new heights as buyer demand continues to surge. So, what does all of this mean for the rest of 2021? Well, as we slowly make our way into the second month of 2021, it is clear that the need for new homes, more square footage, and less congestive living are all still a must. As a result, the current state of things has many people asking themselves if there will be more homes available for sale sooner rather than later? Well, the good news is that there has definitely been an uptick in residential construction, especially in warmer parts of the country.
Will There Be More Home Inventory Later This Year?
As briefly suggested, there will likely be an increase in home supply later this year. However, at present, residential construction continues to face limiting factors, including higher costs, longer delivery times for materials, an ongoing labor skills shortage, and concerns over regulatory cost burdens. That said, home sales are still forecasted to easily grow 7 percent this year, and prices are predicted to rise another 5.7 percent on top of already high levels. Furthermore, even though mortgage rates are expected to tick up gradually, sales and price growth will clearly be propelled by the still strong demand. Of course, other factors such as a recovering economy, still-lagging supply, and lower than average mortgage rates right now will also add to the ongoing high demand.
Nevertheless, when coupled together, all of these trends are more likely to lead a significant number of homebuyers to consider building new homes instead of competing for the existing houses on the market, especially the homes with ever-rising sale prices. What's more, people are now more eager to buy in suburban and rural areas, since land is cheaper there versus in the cities, there will be more areas where homes can be built profitably.
Why Is Demand Unlikely To Slow Down In 2021?
Overall, real estate experts believe that the high buyer demand will keep prices growing, but at a much slower pace than 2020, as buyers will likely contend with mortgage rate and price increases that may very well create affordability challenges. But be that as it may, the ongoing pandemic has forever changed the way people work, learn, and live. Thus, the desire to move out to more suburban and rural areas, the convenience of having a home office space, or the ability to safely learn from home are not going anywhere. In other words, people will continue to search for and buy homes that fit their new normal or lifestyle. Plus, the increased personal savings rate for those who are still employed is only fueling the demand for homeownership.
What Can You Do To Make Yourself A More Competitive Buyer?
Of course, if you are considering a new home this year, there is no need to panic. There are a variety of things you can do to make yourself a more competitive buyer. Remember, just because 2021 is shaping up to be a seller's market once again, at least in popular markets, does not mean you cannot negotiate. Moreover, you can still get into a bidding war and win—whether it is through careful negotiation and inspection, getting pre-approved early, or by simply doing your mortgage due diligence.  You may also want to consider homes that need a little work as viable alternatives.
Ultimately, despite how ready you are to buy a house this year, waiting a few months until the market is less crazy is also another option. Zillow predicts that the right time to buy a house this year will be in late summer (especially in August and September). Thus, by putting home buying on hold until then, you can give yourself time to save for a bigger down payment, build your credit, plus allow your local housing market to become less competitive.
Ready to Apply For a Mortgage in WA, OR, CO, or ID?
Do you have questions about home loans? Are you ready to apply for a mortgage to buy a home? If so, Sammamish Mortgage can help. We are a local mortgage company from Bellevue, Washington, serving the entire state, as well as Oregon, Idaho, and Colorado. We offer many mortgage programs to buyers all over the Pacific Northwest and have been doing so since 1992. Contact us today with any questions you have about mortgages.