Two Kinds of Refinance For You to Consider
Summary: Right now, mortgage interest rates are very low, allowing homeowners to save a lot when they refinance. This article will discuss two types of refinance programs to consider.
You know that mortgage rates are low, and therefore it's time to refinance. Right?
But it's also important to know which kind of refinance you'll be doing. Regardless of lowering your rate, you have another decision to make.
Kinds of Refinance
When you refinance your mortgage solely to reduce the rate or to improve the terms of your mortgage, you are doing a "rate and term refinance."
This means that your goal is not to take cash out of your home's equity. Refinancing from a 30-year loan into another 30-year loan with a rate .5% lower than your present rate would be one example of a rate and term refinancing. Switching from an adjustable-rate mortgage to a fixed-rate would be another. Refinancing from a 30-year loan into a 15-year loan would be another.
When you refinance to pull some significant amount of cash out of your equity, you are doing a "cash-out refinance." The rate on this type of refinance will be approximately .125% higher than for a rate and term loan.
Your loan may be considered a cash-out refinance even though you may not receive any cash at closing. If you presently have a second mortgage or Home Equity Line Of Credit (HELOC) in place and you got the second loan after you bought your home, a new loan to pay off both loans will be a cash-out loan even though you receive no cash at closing.
Do You Have Enough Equity?
A lender looks at your property as security for the loan they will give you. They are always concerned about the Loan To Value Ratio (LTV). The LTV is the loan amount as a percentage of your home's appraised value.
If the appraiser says your home is worth $500,000 and you are looking for a $400,000 loan, your LTV is 80% ($400,000 is 80% of $500,000). When you begin a refinance, you want to be confident that your home's value will support the loan you want.
Doing a cash-out refinance depends largely on if you have the appraised value and equity to take out the amount you want to borrow. Even the details of a rate and term refinance can change depending on whether home values have gotten significantly higher or lower since your last mortgage began.
The only sure way to find out the appraised value is to have your loan officer order an appraisal. This will cost around $500—and you'll pay for the report in advance.
If you have any doubts about your property's value, you can get a Home Valuation Report (HVR) from Sammamish Mortgage at no cost to you before paying for the full appraisal. The HVR is not a substitute for a full appraisal, but the HVR can give you some insight in advance about your home's value.
There is no cost to you for this valuable report; it's yours for the asking, and you'll receive it instantly.
Once you've decided which kind of refinance suits you, you'll need to follow through on the rest of the process. Download our ebook by clicking the button below to find out exactly how to refinance before mortgage rates go up.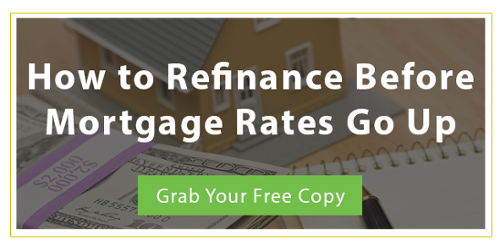 Need a Loan?
Will you need mortgage financing to buy a home? At Sammamish Mortgage, we offer a wide variety of mortgage programs and tools with flexible qualification criteria. We serve the entire state of Washington, as well as the broader Pacific Northwest region that includes Oregon, Colorado, and Idaho. Please contact us today with any financing-related questions you have.