Think You Shouldn't Refinance? 4 Self-Defeating Excuses
Summary: There are plenty of reasons why now is a good time to refinance, but many homeowners might self-sabotage their opportunity to take advantage of lower rates and save. This article will list 4 self-defeating excuses that homeowners make not to refinance.
With mortgage rates still at historically low levels, why are some homeowners still laboring with higher interest rates? If they can save money, what stops them from taking a step that will put money in their pockets each month?
We did an informal survey of past clients who didn't plan to jump on the refinance bandwagon. Here are some of the reasons they gave us.
1. I Don't Have Enough Equity
While it's true that many homeowners were "underwater" for several years, real estate values have recovered nicely. Some we spoke to resisted refinancing because they were afraid their home wouldn't appraise for a high enough figure, and they'd have to pay that horrible, expensive mortgage insurance.
Mortgage insurance is a fee paid to an insurance company to protect the lender where the loan is more than 80% of the property's value. The cost of this insurance depends on a combination of the loan-to-value ratio and the borrower's credit score.
Mortgage insurance for a $400,000 loan that is 85% of the property's value would cost about $67.00 per month for someone with a credit score of 740. To put that into perspective, dropping the rate on a $400,000 loan to 3.625% from 4.5% would cut the monthly payment by over $250 a month.
Even temporarily paying for the mortgage insurance, you'd still save about $187 every month from the refinance. Lenders typically allow a borrower to drop the mortgage insurance once the loan-to-value ratio reaches 80%. After that, you'll save the full $250.
2. I Wouldn't Benefit Enough to Make it Worth the Hassle
Let's be honest. Refinancing is not what you could call "fun." It does take some effort on the homeowner's part—you have to gather pay stubs and other income documentation, you have to dig up your tax returns and go through the whole rigmarole of signing all those forms, some of them twice. No argument: it's a hassle, just like mowing the lawn or doing the laundry is a hassle.
Let's say you have a good rate today on your $400,000 loan, and you can drop your rate by just ½%. Is that a waste of time? You'd drop your payment by $140 a month, and you'd accrue net savings of $6,000 in five years.
If it took you as many as 10 hours of real work to refinance (which it won't,) is $6,000 a good return on your time?
3. I Don't Think I'll Qualify With My Credit
It is true that lenders have certain guidelines that you have to meet in order to get them to lend you money. They want borrowers to have a credit score of at least 620—hardly a perfect credit record.
The mysterious FICO score that all lenders use ranges from 300 to 850. The formula that calculates that all-important scores takes into account late payments and collection accounts (or the absence thereof), credit card balances and legal information, such as judgments and liens that may appear. A credit report can contain a combination of all of these derogatory items and still produce a credit score above 620. News Flash: You do NOT have to have perfect credit to get a mortgage today.
What if your credit score is below that magical 620 number? If the reason for the lower score is high credit card balances, paying down those balances will raise your score quickly. If there are recent collection accounts or liens, dealing with those items will also raise your score. It may take some effort on your part, but you should decide whether the payoff (saving thousands of dollars) is worth the work.
4. I've Been Paying Off My Loan For 5 Years; I Don't Want to Reset the Clock to 30 Years
The 30-year mortgage has been a mainstay of lenders and homeowners for generations; but if your dream is to own your home with no mortgage, there are ways to accomplish that. If you can handle a higher monthly payment, consider a 15-year loan.
The rate will be lower than for a 30-year mortgage, but you'll be paying quite a lot more toward the principal each month. A $400,000 30-year loan at 3.5% will have a payment of $1,796. A 15-year loan for the same amount at 3% would have a $2,762 payment—$1,000 higher.
This higher payment is the result of retiring the principal in half the time. In the end you'll pay much less total money, but you have to fork over more each month (although it's less than double the 30-year payment).
If that higher payment doesn't fit your budget, there is a middle ground. Some lenders are willing to create loans with terms of 26 or 27 years so you can get your home paid off on the same schedule. You can also increase the monthly payment on your new loan slightly to shorten the term. If you paid $2,000 instead of $1,796 on your $400,000 loan, you'll pay it off in 25 years, not 30.
Please note: We have used loan amounts, rates and payments for instructional purposes only. Please do not consider these examples to be rate quotes or loan estimates.
The one thing we can be sure of is that interest rates will change in the future. Rates are more likely to move higher in the near future than lower, so you have been holding off for any of the reasons we've mentioned, maybe now is your time to act.
To learn about the next steps in refinancing, click the button below to download our free ebook on refinancing before rates go up.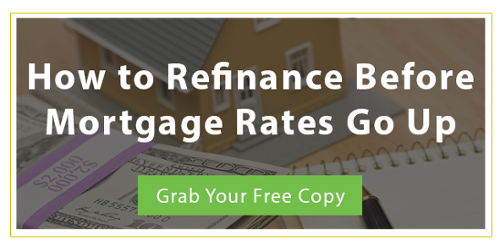 Need a Loan?
Will you need mortgage financing to buy a home? At Sammamish Mortgage, we offer a wide variety of mortgage programs and tools with flexible qualification criteria. We serve the entire state, as well as the broader Pacific Northwest region that includes Oregon, Colorado, and Idaho. Please contact us today with any financing-related questions you have.